Apartment Managers
Mandatory Recycling
Under
California State Law AB 341
,
a
partment owners/managers of buildings with
5
or more units are required
to provide recycling service to their tenants. The City of Long Beach has a goal for all apartment buildings to have recycling service.
If your building has City-serviced trash collection

and you would like to request recycling

service

, you can

submit a request

online or

contact

us

at (562) 570-2876

.

Recycling

service

is included with all City-serviced accounts.
If you have a private hauler for your trash collection,

contact them

to set up recycling service

for your building

.

Increase Recycling Success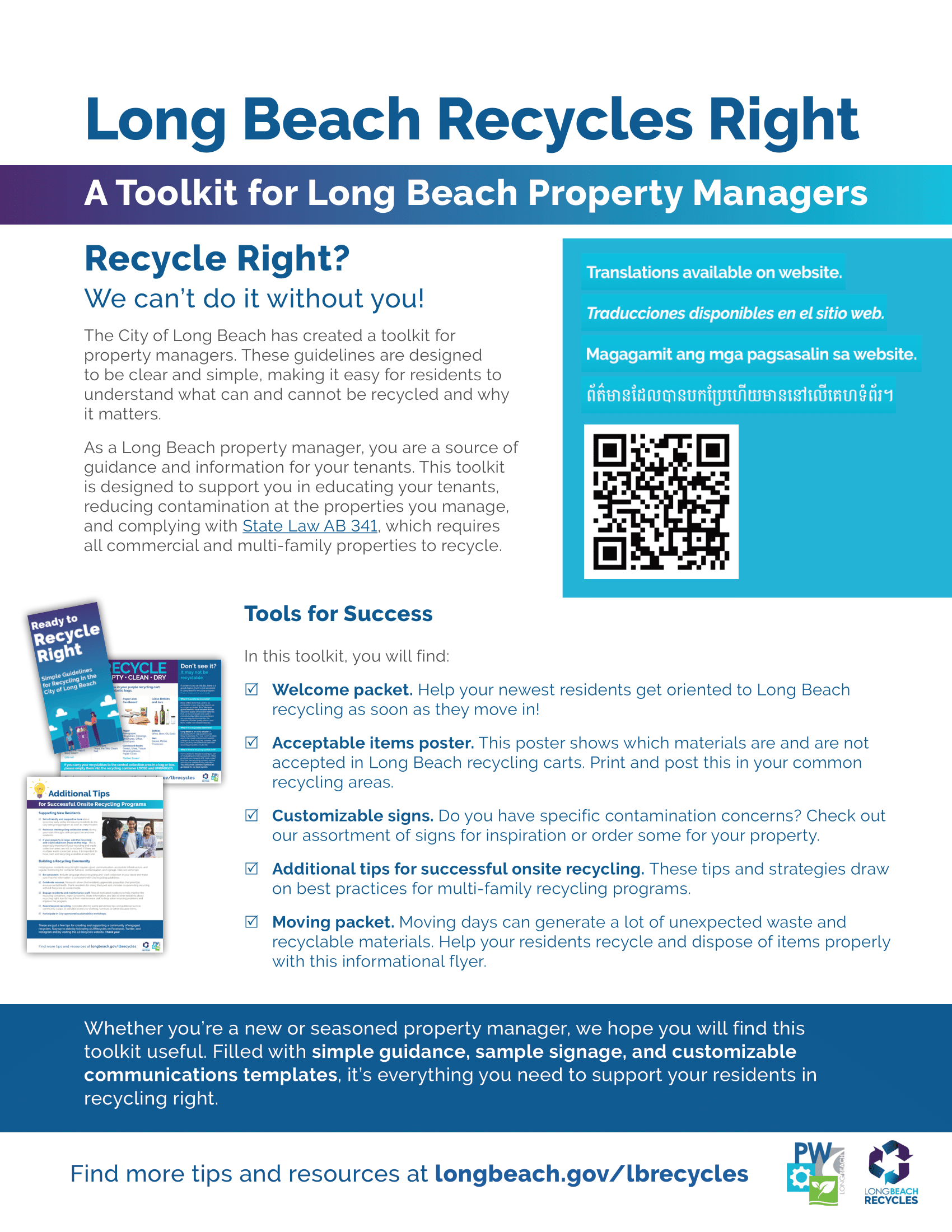 Give new tenants a copy of the recycling guidelines when they move in.

If you have City service, print out the

Recycling Guidelines

or

email us

to

mail you

printed copies

.

If you have a private hauler,

contact them

or go to their website to

learn what can and cannot be recycled.

Download our Property Manager Toolkit to help you educate your tenants, reduce contamination at the properties you manage, and comply with State Law AB 341. The toolkit includes a welcome and moving packet for new residents, customizable recycling signs, tips for successful onsite recycling, and more.
Help Tenants Schedule
Special Collection
Pickups
Inform your tenants how to dispose of bulky items.

If you have City service, contact us to request a special collection

by calling (562) 570-2876

or

submit

a

Special Collection Request

form online

.

Work with your

tenants t

o

coordinate a special collection of bulky items.

Visit our

Special Collection 10

1

pag

e

to learn more.

If you have a private hauler,

contact them t

o set up a special collection.

H

azardous waste

collection is available

at no additional cost

for all Long Beach residents

at drop

-

off locations in the City.

Mandatory Organics Recycling
Under California State Law AB 1826, apartment and condominium buildings with 5 or more units and that have four yards of solid waste (which includes trash and recycling) or more per week are required to have organics recycling services for green waste, yard waste, and uncontaminated wood waste. If you do not have this material or you have a landscaper that takes the material away for you, contact your hauler to report this.