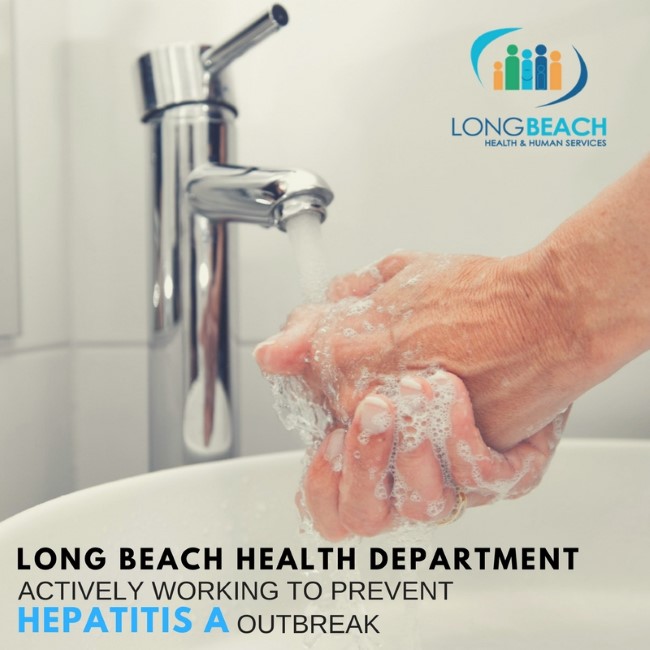 A large Hepatitis A outbreak in California has prompted Governor Edmund G. Brown Jr. to declare a state of emergency. The outbreak has primarily affected persons experiencing homelessness and some illicit drug users. Hepatitis A spreads when the virus is ingested after coming into contact with objects, food, or drinks contaminated by the feces of an infected person. This can happen when an infected person does not wash his or her hands after going to the bathroom and touches other objects or food. It can also be spread through sex or by sharing drug paraphernalia.
To date, there are no local cases in Long Beach; however, the Long Beach Department of Health and Human Services (Health Department) continues to enhance prevention efforts by increasing education and vaccinating those at-risk.
"The Health Department continues to work diligently to outreach, educate, and offer the vaccine to the at-risk population," said Dr. Anissa Davis, City Health Officer. "We are taking a proactive approach to prevent local cases from occurring."
Long Beach Department of Health and Human Services response efforts include:
Setting up vaccination clinics at shelters/outreach locations in addition to encampment outreach. Almost 400 vaccines were given in the past month.
Collaboration with the California Department of Public Health (CDPH) to secure hundreds more vaccines for the high-risk populations in Long Beach, which will be disseminated through December 2017.
Additional vaccination clinics planned for November and December at various outreach locations throughout Long Beach.
A webpage developed containing information about hepatitis A, at www.longbeach.gov/hepA.
A hotline established for the public to call with questions regarding hepatitis A, at (562) 570-7907.
Provider notifications to local health professionals regarding vaccine recommendations and outbreak updates.
Collaboration with Long Beach jail to ensure that the vaccine is provided to high-risk inmates.
Ongoing communications with neighboring jurisdictions and CDPH regarding outbreak updates and updated recommendations.
Coordination with local hospitals to discuss recommendations and answer questions.
Presentations on infection prevention and educational training for City staff working primarily with homeless/at-risk populations.
Collaboration with Long Beach Television (LBTV) to film a training for all City Staff on how to avoid occupational exposure to hepatitis A.
Active monitoring for new cases, and immediate interviews on any suspect cases, in case post-exposure prophylaxis is needed.
A group of about 35 staff members from different bureaus and programs have been trained to respond to communicable disease outbreaks, in case the need for workers exceeds everyday capacity. Members from this cohort have assisted with vaccination clinics as well as outreach efforts.
The Long Beach Health Department continues to proactively plan for potential outbreaks and remains confident that prevention efforts have played a part in avoiding an outbreak in Long Beach.
Long Beach Health Officials urge residents to learn more about hepatitis A by visiting www.longbeach.gov/HepA or by calling our Public Health Information Hotline at (562) 570-7907.
About Long Beach Department of Health and Human Services
The mission of the Long Beach Department of Health and Human Services is to improve quality of life by promoting a safe and healthy community in which to live, work and play. Long Beach Health is one of only three city-run health departments in California, which allows for better engagement with residents, neighborhoods, businesses and community partners, and fosters a greater understanding of the City's strengths. For more information, visit us at www.longbeach.gov/health, "Like" us on Facebook and follow us on Twitter and Instagram.