Long Beach Airport (LGB) held a full-scale emergency response exercise today, Friday, April 20, 2018. The drill tested the speed and effectiveness of emergency personnel and LGB staff in the event of an aircraft accident. Industry experts served as evaluators along with oversight from the Federal Aviation Administration (FAA).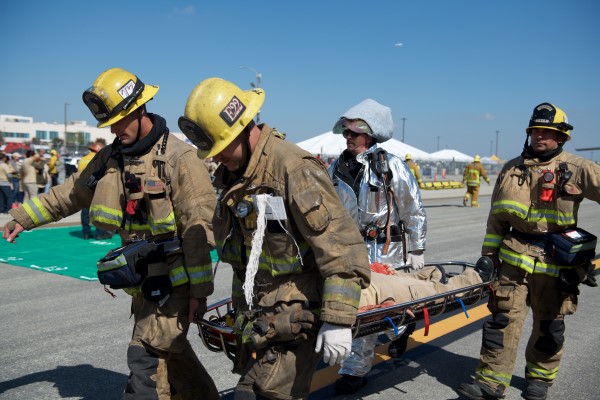 The emergency preparedness exercise, known as the Triennial, is required by the FAA. Commercial airports, such as LGB, must hold such an event every three years to maintain their Part 139 Airport Certification which allows commercial flights to operate out of the airport.
"This exercise enhances LGB's working relationship with multiple local agencies and tests their readiness to deploy personnel and resources," said Mayor Robert Garcia. "I would like to commend all agencies that took part in this drill. They helped provide an invaluable opportunity to practice coordinating medical and emergency performance."
Multiple emergency agencies from around the City and region assisted and evaluated the exercise. Response was conducted by the Long Beach Fire Department, Long Beach Police Department, and Los Angeles County Sheriff's Department. Medical support was provided by the American Red Cross, Dignity Health St. Mary's Medical Center, Long Beach VA Hospital, Los Angeles County Mental Health, and private ambulance services. Additional support was provided by JetBlue Airways, U.S. Coast Guard, and U.S. Air Force Reserves.
The exercise included more than 100 volunteer victims and a C-17 military aircraft. Organizers asked those involved to act as passengers that were part of the mass casualty incident. Responders and airport staff were then scored on their response efforts.
"This exercise is a valuable opportunity and while we hope such a crisis never occurs, it is imperative that we are always ready to take action," said Long Beach Airport Director Jess Romo. "Safety and efficiency of our airport operations is of the utmost importance."
The exercise did not cause any delays or interruptions to normal Long Beach Airport operations. In total, more than 400 participants acted out multiple roles that ranged from emergency responders to injured or deceased victims, and family members of the victims.
About Long Beach Airport
Founded in 1923 as the first municipally-owned airport in California, Long Beach Airport (LGB) completed a revitalization in 2012 to update its facilities. A new passenger concourse opened to the public and has since garnered extensive praise for its modern design and architecture, local eateries and easygoing travel experience. Recently, Sunset magazine awarded LGB with a Best of 2017 Travel Award. In addition, USA Today and 10Best.com recognized LGB for Best Airport Dining in their Readers Choice poll. LGB offers non-stop service to several U.S. cities while supporting a healthy general aviation community with over 260,000 annual operations. The airport is also a source of substantial economic activity and employment. Long Beach Airport and its tenants generate more than $10 billion and 45,000 jobs in total economic activity to the Long Beach region with an additional $1.1 billion in tax revenue at the federal, state, and local levels. Long Beach Airport prides itself in maintaining a safe, sustainable, and environmentally responsible operation. For more news, pictures, videos and announcements of what's happening, "Like" us on Facebook, or follow us on Twitter @LBAirport and Instagram @lgbairport.
# # #