Long Beach Municipal Urban Stormwater Treatment
(LB-MUST)
---
Latest Updates - October 2023
Exterior site work including landscape, hardscape, and irrigation construction is underway. The outdoor portions of the project are estimated to be completed at the end of this year. Interior building construction is ongoing in preparation for commissioning and startup of stormwater treatment equipment.

Construction for the LB-MUST Facility began in November 2021, and is scheduled to take approximately 2 years for the completion of the outdoor improvements. Active construction is within fenced project areas, located next to the Los Angeles River. LB-MUST Wetland construction will occur during this time frame, and is located east of the treatment facility.
---
General Overview
The Long Beach Municipal Urban Stormwater Treatment (LB-MUST) Project is located in the lower Los Angeles watershed and supports City compliance with stormwater permit requirements. LB-MUST diverts pollution urban runoff and portions of first flush stormwater from existing stormwater pump stations along the river to the LB-MUST Facility with a capacity to treat 2 million gallons per day using ceramic ultrafiltration, media filtration, and photocatalytic advanced oxidation processes. Treated water sustains brackish constructed wetlands adjacent to the facility which ultimately drain to the river. Future phases will connect to more pump stations, pilot reuse of treated water for irrigation, toilet flushing, and other permitted uses.
---
Why is it important?
Clean water is important for our community and the environment. The treatment facility filters polluted urban runoff and stormwater. Treated water flows to the wetland across the street. Wetland plants trap pollution in roots and leaves. The wetlands overflow to the river and eventually flow to the ocean.

Excess water from sprinklers, car washing, construction, and other activities pollute water and run off land into the storm drain year round. Urban runoff and storm water are further polluted by roads, spills, and other sources when draining toward the river.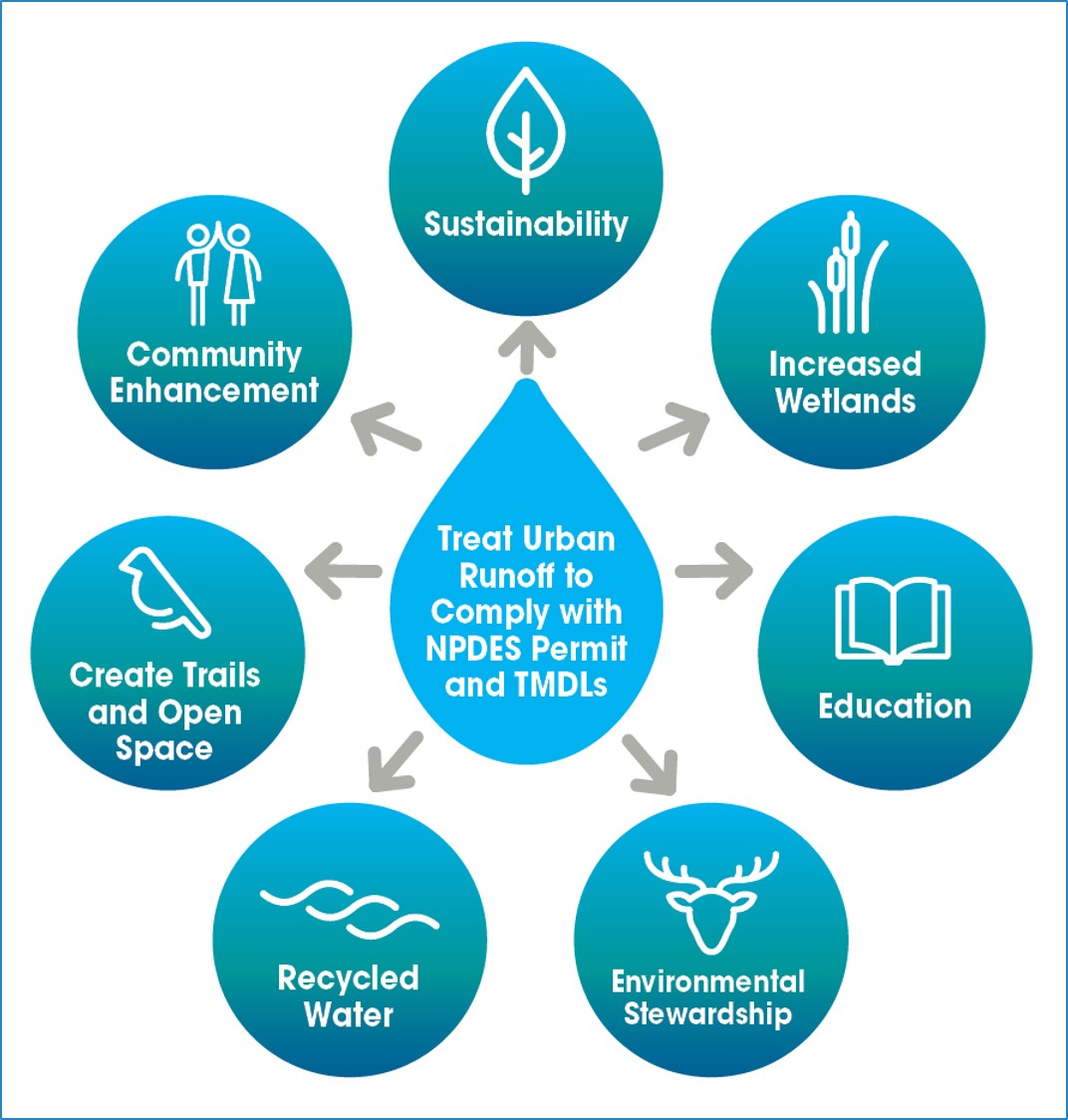 ---
Main Program Components
Stormwater Permit Compliance
Stormwater Diversion
Stormwater Treatment
Public Education
Establish Open Space
Water Reuse
---
Project Funding (Total: $44,000,000)


The City is currently developing a budget for the next phase of LB-MUST which will connect additional pump stations and pilot reuse.
More Information