The Long Beach Municipal Urban Stormwater Treatment
(LB-MUST)
---
Latest Updates - April 2023
Due to heavy winter rainfall and wet site conditions, construction has been slowed. The facility building exterior is nearing completion, while the interior construction is currently in progress. Landscaping and outside concrete work is anticipated to begin in Summer 2023. Utility work on the wetlands is nearing completion. Grading and excavation on the wetlands has resumed. Landscape work on the wetlands is anticipated to begin in Summer 2023.

Construction for the LB-MUST facility began in November 2021, and is scheduled to take approximately 2 years for the completion of the entire site. Current facility construction is designated to the fenced project area, located next to the Los Angeles River. Development of the LB-MUST Wetland will also occur during this timeframe, which will be located east of the treatment facility.
---
General Overview
The Long Beach Municipal Urban Stormwater Treatment (LB-MUST) Project will be designed to divert and treat polluted stormwater runoff prior to entering the Los Angeles River, or reuse as alternative water source. Diverted water will be treated at the LB-MUST facility, with an initial capacity to treat 2 million gallons per day (MGD) and potential expansion to treat 4 MGD. Portions of the treated water will sustain vegetation in the wetlands.
---
Why is it important?
The LB-MUST facility uses innovative ways to improve our water quality by using ceramic ultrafiltration and photocatalytic technology to treat collected stormwater. Portions of the treated water will be potentially used for City irrigation and to establish this project's wetlands, generating a sustainable Long Beach stormwater model that will help ensure our water quality standards remain in compliance with California's NPDES Permit.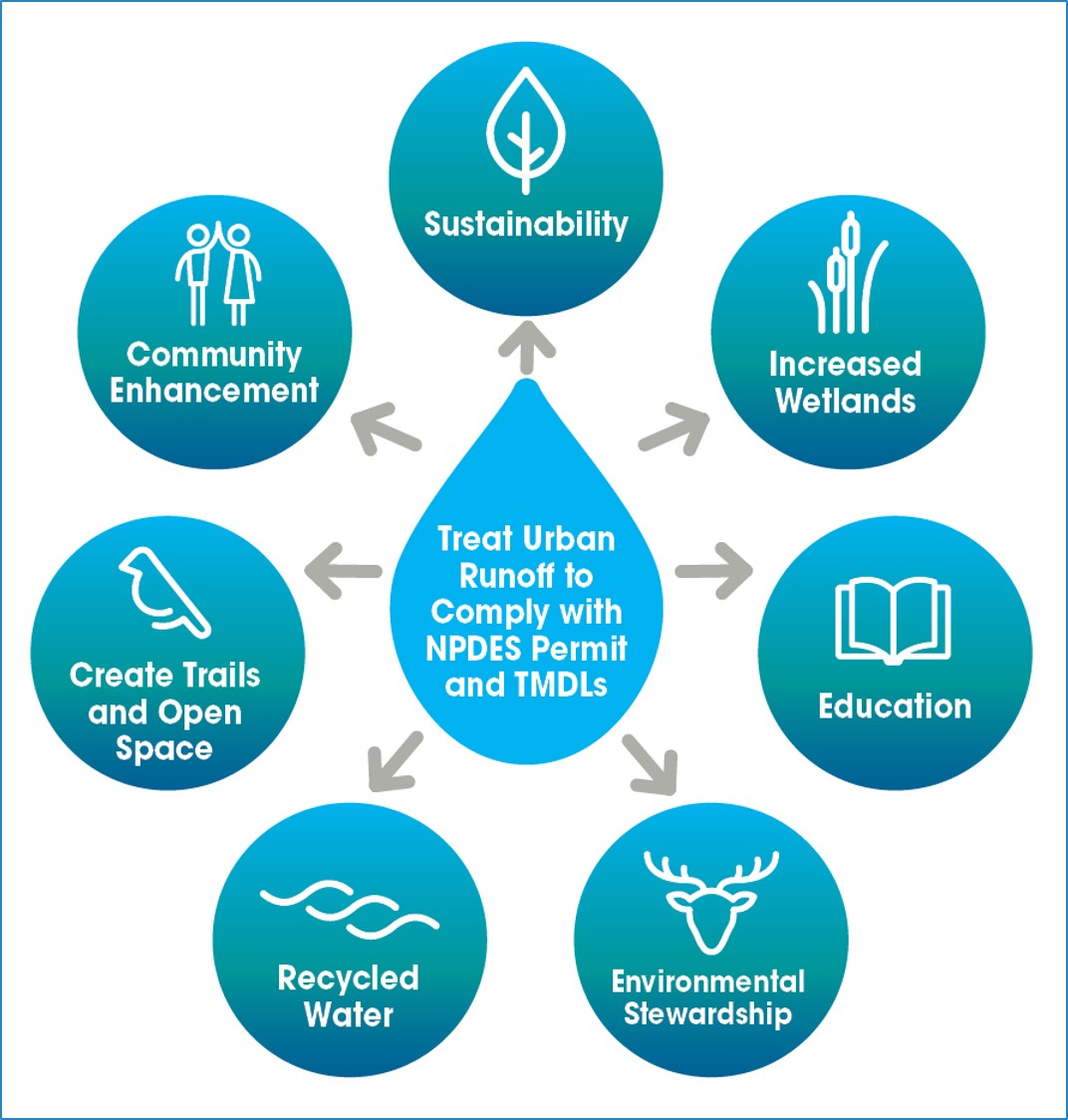 ---
Main Program Components
Stormwater Conveyance
Stormwater Treatment
Water Reuse
Public Education
Establish Open Space
---
Project Funding (Total: $44,000,000)


On January 18, 2022, City Council awarded E2 Contracting for the construction fo the Wetlands portion of the project.
More Information