---
Airport Carbon Accreditation. In 2021, Airports Council International, the leading industry group for airports, certified Long Beach Airport with a Level 2 rating in the Airport Carbon Accreditation (ACA) program. LGB's carbon management plan includes pledges to reduce emissions from 2016 levels, on a per passenger basis, by 20% in 2025 and 40% in 2030. City leaders have set a goal for the airport to eventually become a carbon-neutral facility.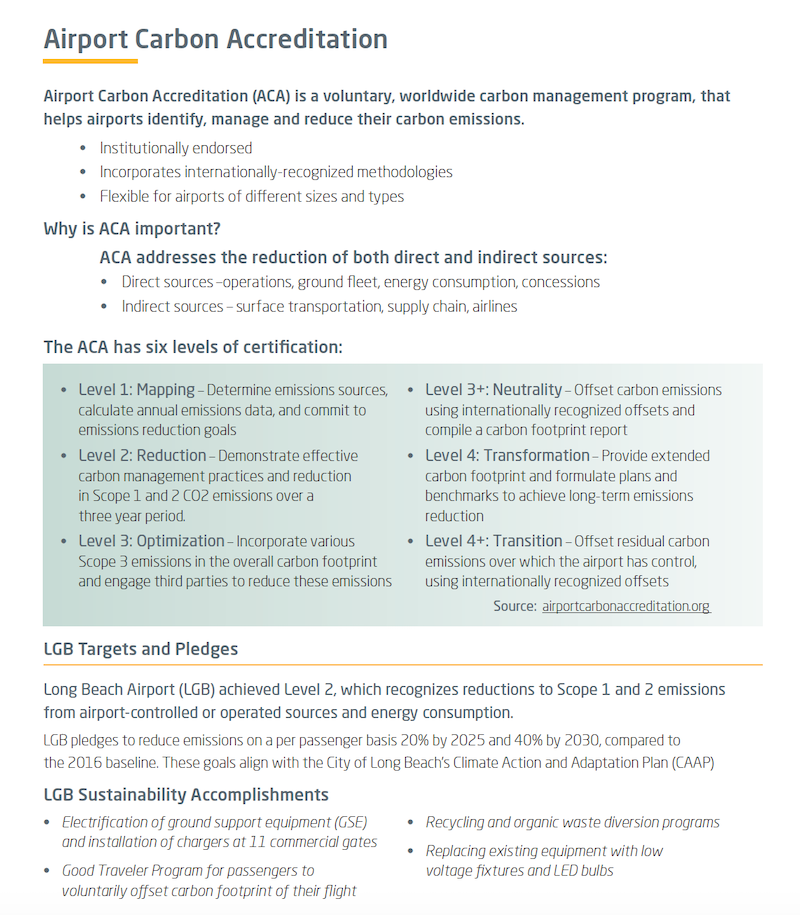 MOU With South Coast AQMD. In December 2019, LGB became one of five commercial airports in the South Coast Air Basin to finalize a voluntary MOU with the South Coast Air Quality Management District (SCAQMD). The purpose of the MOU is to identify emission reduction benefits and how they will be quantified through the implementation of voluntary airport strategies outlined in the Airport's Air Quality Improvement Plan (AQIP). The AQIP sets ambitious voluntary targets for renewable energy, sustainable design, clean construction practices, clean fleet goals for airport-owned vehicles and additional electric charging infrastructure for travelers.
Ground Support Electric Chargers. In early 2020, LGB installed 15 electric chargers for ground support equipment (GSE), resulting in 100% electrification of commercial gates. The state-of-the-art technology quickly charges airline-owned GSEs, commonly used for repositioning and servicing aircraft, loading and unloading cargo and transporting checked bags.

Aircraft Ground Power. With the installation of preconditioned air and electrical power at each aircraft parking position, commercial pilots may now shut off auxiliary power units while waiting at the gate, substantially reducing emissions on the ramp.

Atlantic Aviation Partnership With Carbonfund. Atlantic Aviation has a new initiative called "Fly More. Leave Less." that provides an option for customers to purchase carbon offsets for fuel purchases. The funds are used to invest in energy efficiency, forestry and renewable energy projects. Customers receive a summary of the carbon offsets they purchased at the end of each year.

On-Site Parking. With all parking located a short walk from the terminal, LGB has zero emissions from parking lot shuttles.

Voluntary Carbon Offsets. LGB participates in The Good Traveler, a program for passengers to voluntarily offset the environmental impact of travel through the purchase of carbon offsets.